One of the most amazing spots on Alaska's Inside Passage is Glacier Bay National Park. With ever-changing glaciers, sheltered fjords, rainforests, and endless wildlife make this popular cruise port a life changing experience.
Although your experience may vary depending on what time of the year you visit Glacier Bay, you will still want to keep your camera handy at all times. This area is a popular spot to view humpback whales, grizzly bears, brown bears, black bears, sea otters, bald eagles and more. Located in the southeastern corner where marine wilderness rich area with glaciers, mountains, coastlines, fjords, rivers, and lakes. With plenty of mother nature's creations to view and endless activities, here is my list of favorite things to see and do while in Glacier Bay National Park.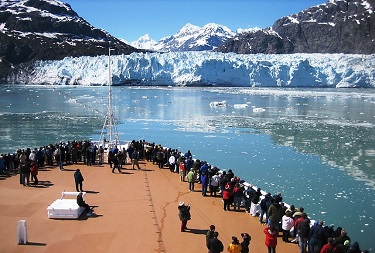 Kayaking
One of the most popular activities in Alaska is kayaking. With the abundance of wildlife and amazing creations by nature, kayaking gives you a difference perspective as well as bringing you close to nature. Kayak in the same water as 40-foot long humpback whales and 2000-pound sea lions while you're in Glacier Bay. The waters near Bartlett Cove are full of wildlife, so keep your camera handy while you kayaking trip will be both exhilarating and nerve-racking as you creep closer and closer to wildlife.
Boat Tour
Most of you will arrive in Glacier Bay by cruise ship, so it is understandable to want a break from boats, but this one of a kind boat tour is something you shouldn't miss. In the summer time, the boat cruise travels 120 miles round-trip up Glacier Bay, offering glimpses of orcas, whales, sea lions, otters, bears, wolves, mountain goats and a wide variety of birds. A nice relaxing way to see the bay and all that it has to offer.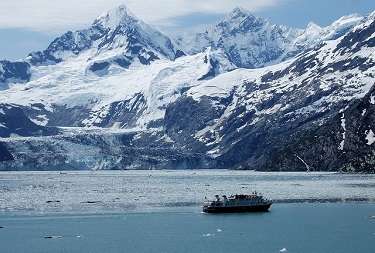 Whale Watching
Get much closer to whales on a much smaller vessel as you cruise the waters of Icy Straight. This smaller vessel can bring up much closer to whales compared to the average tour boats that are restricted from approaching whales. You might want to wear a raincoat/rain gear if you lucky you might just get blasted with snot from a surfacing humpback.
Rainforest Hike
Glacier Bay offers to exhilarating trails, the Forest Loop Trail and the Bartlett River Trail. Hike through bear and moose country; explore the rainforests that feel like a magical world where moss clings to everything. Hike during May and June to listen to all the birds or June and July for the beautiful wildflowers.
Flight-seeing
For an utterly mind-blowing experience climb in a small airplane for an eagle's eye view of this magnificent national park. With views of the glaciers, ice-fields, canyons, alpine lakes and waterfalls are truly unforgettable. I wouldn't be surprised if this ends up being your favorite experience in Alaska.
Ice-sculptured fjords, lofty mountain peaks, an abundance of wildlife, and most of all, massive glaciers, have made Glacier Bay National Park on of Alaska's most spectacular areas. Just the scenery alone will keep you busy snapping photos. From breathing in fresh mountain air to whale watching, no matter what you choose to do or not do, this is one place on earth that is one of natures most beautiful creations.