Good food is often associated with luxury and good living and contributes to the Cruising experience in a big way.
We have tried to answer many questions that most of the people have, before going on a Cruise.
What is included in your cruise fare?
Most of the food options are covered in your cruise fare which includes breakfast, lunch & dinner. The main dining area and cruise buffet are always included in your deal. However, some speciality food, beverages and up-scale restaurants often incur an additional charge, it could be either a cover charge or ala carte pricing per item, like in a normal restaurant.
What are the food options?
The food options available range from anything simple and classic to extravagant and modern. For the dining room, the menus are changed on a daily basis. Dinner is usually the most popular meal where everyone comes together, its an amazing experience as a variety of Appetizers, Entrees and desserts are presented to the guests to choose from. Majority of the food is complimentary but some of the premium food dishes, premium beverages and speciality coffee can be chosen from the special menu at an additional cost.
The breakfast and lunch is less formal as compared to the dinner.
The breakfast menu remains the same with no changes but lunch menu is changed on a daily basis.
Needless to say It's a foodies' paradise in a true way!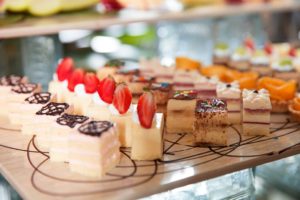 Is there a dress code?
With most of the cruises, the dining room does have a dress code and this makes a lot of people uncomfortable thinking about all the dresses they have to carry in order to follow the dress code but the dress code is usually very simple 'resort casuals' mostly dresses or skirts for the ladies and collared shirts and trousers for men but a smart pair of jeans is considered appropriate for both men and women except for the formal nights where the guests have to dress in a 'fancier' fashion with cocktail dresses or gowns for women and suits for the gentlemen.
Like the comfort of your own cabin?
For the ones who like the comfort of their own cabins on the cruise, they could avail the 24*7 room service at a minimal charge for each delivery. Its very similar to the room service of a hotel where the hotel staff delivers the food in your room. Although, the room service menu is not as elaborate as the buffet and remains the same throughout.
Travelling with a baby or kids?
Most of the parents have concerns about food for their kids and whether the kids will find something of their liking. But in all the cruises special kids menus are offered in the main dining area as well as the speciality restaurants. Kids could also try food options in the buffet and while ordering you could request for a smaller portion for the young member.
As far as baby food is concerned, if you place a request in advance, some of the cruises could provide pureed food for the little ones while with other cruises, this option might not be available.
Its a good idea to carry formulas and milk cartons just to make it more convenient.
Carrying own food on-board?
You are allowed food on-board including snacks or food that you pick from the ports as long as they are non-perishable like raw meat etc.
You should be able to find a lot of options of your choice unless you're on an extremely restricted diet or too picky.
If you get hunger pangs at odd hours, most of the cruises have food available 24*7. There might be a smaller selection at the buffet and on board coffee shops always have baked goods and small snacks.
Allergies/ Special dietary requirements?
If you have dietary restrictions or special diet requirements, be rest assured that most of the cruises are very accommodating and are able to deal with almost every dietary requirement such as vegetarian, food allergies, Kosher, Gluten Free, low fat, Lactose free at no additional charge.
In case you have a special dietary requirement, it's best to put a request to the cruise company when you make the booking.