A Valuable Luxury Amenity
Our comprehensive diving program adds value – and cherished memories – to every cruise!
Even those of you who've never tried diving before thrill to the underwater wonders youcan behold when they experience SCUBA diving with the experts at Paul Gauguin Cruises. Depending on which itinerary they choose, you might come nose to nose with exotic species such as these:
SOCIETY ISLANDS: Blacktip reef and lemon sharks, manta rays, moray eels, sea turtles, and barracudasSOCIETY ISLANDS: Blacktip reef and lemon sharks, manta rays, moray eels, sea turtles, and barracudas
UAMOTUS ISLANDS: Hammerhead sharks, manta rays, dolphins, turtles, eagle rays, barracuda, and tropical fish
COOK ISLANDS: Large hawksbill turtles, whitetip reef sharks, emperor angel fish, and eagle rays
MARQUESAS ISLANDS*: Hammerhead sharks, grey sharks, manta rays, moray eels, scorpion fish, giant trevally, tuna, and schools of juvenile fish
The Gauguin's SCUBA diving excursions are designed for all levels of experience, nearly all equipment is included in each dive, and every dive is accompanied by our own team of experts. We even offer PADI certification on board for novice divers, as well as refresher courses!
Space is extremely limited aboard our deluxe small ship, so book your dream diving adventure today!
---
*The Marquesas Islands are among the best diving spots in the world. The Gauguin offers you the only opportunity to explore the underwater world of the Marquesas, as there are no dive centers in these remote but pristine islands.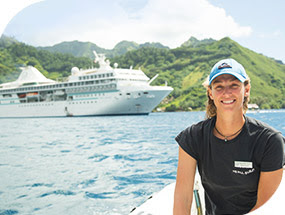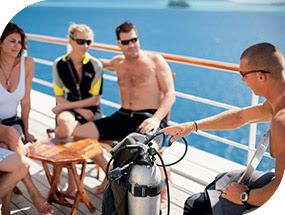 SUBMIT YOUR QUOTE FORMS TODAY SO WE CAN HOLD YOUR CABIN AND SEND YOU A QUOTE!
VISIT GET A QUOTE PAGE, FILL OUT THE FORM COMPLETELY AND SUBMIT IT TODAY.
LET US HELP YOU GET ONBOARD!