2019 Cruises are now available
On the world's best luxury river cruise line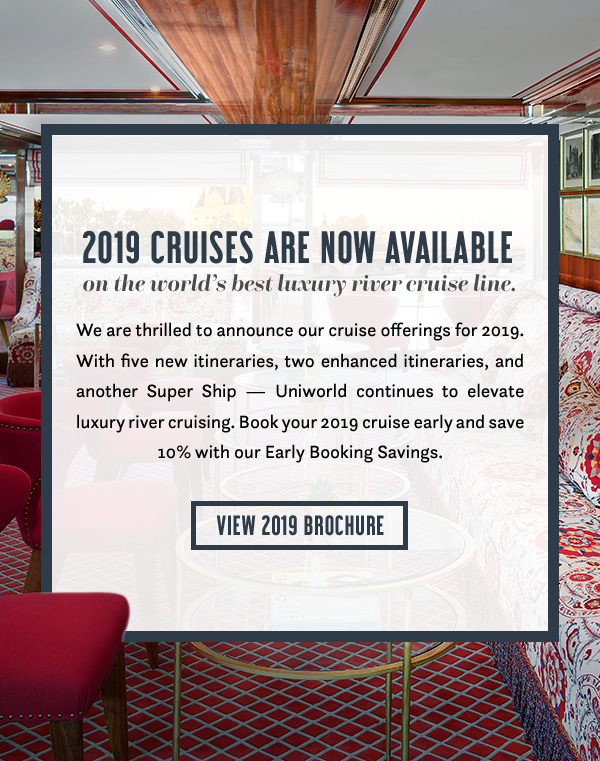 HOLLAND & BELGIUM AT TULIP TIME
8 DAYS FROM BRUSSELS TO AMSTERDAM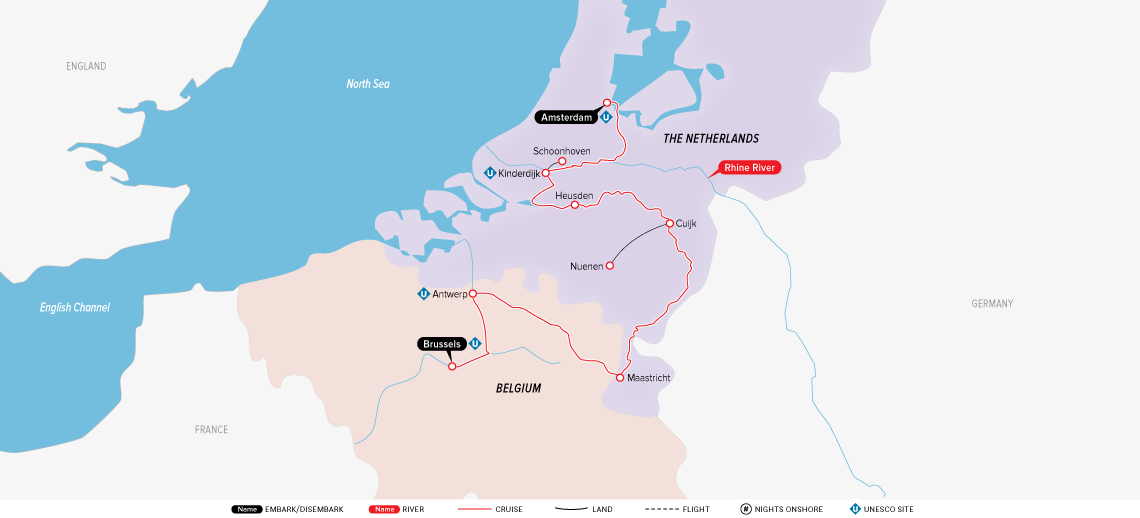 This itinerary adds a contemporary flair to the classic tulip time experience, where you'll find an ideal mix of old and new, historic and modern, in some of Europe's liveliest cities. You'll stay overnight in Amsterdam and Maastricht, allowing you more time to discover great shopping, countless active options and mouthwatering foodie destinations. Explore Belgium's historical and contemporary capital city of Brussels, home of a rich and vibrant culinary tradition. Discover Antwerp's penchant for tasty treats, including Belgian waffles, beer, pralines and chocolate on a walking discovery tour of the diamond capital of the world. In splendid Maastricht, a city with hundreds of national heritage sites, you'll uncover why it's known as one of the most beautiful cities in all of Holland. Follow in Van Gogh's footsteps with a stroll through Nuenen, where you'll wander through the sites that inspired much of his art. Or venture into the town of Heusden and marvel at a historic working mill, learn to make bread at a local bakery, or wander through the remnants of a 13th-century fortress. Delight in a visit to Kinderdijk to see it's 19 well-preserved windmills that have stood the test of time. In colorful Amsterdam, you'll be treated to an exclusive "Morning with the Masters" visit without crowds to the Amsterdam Hermitage Museum–the perfect ending to an unforgettable journey.
MAGNIFICENT MOSELLE & RHINE
10 DAYS FRANKFURT TO COLOGNE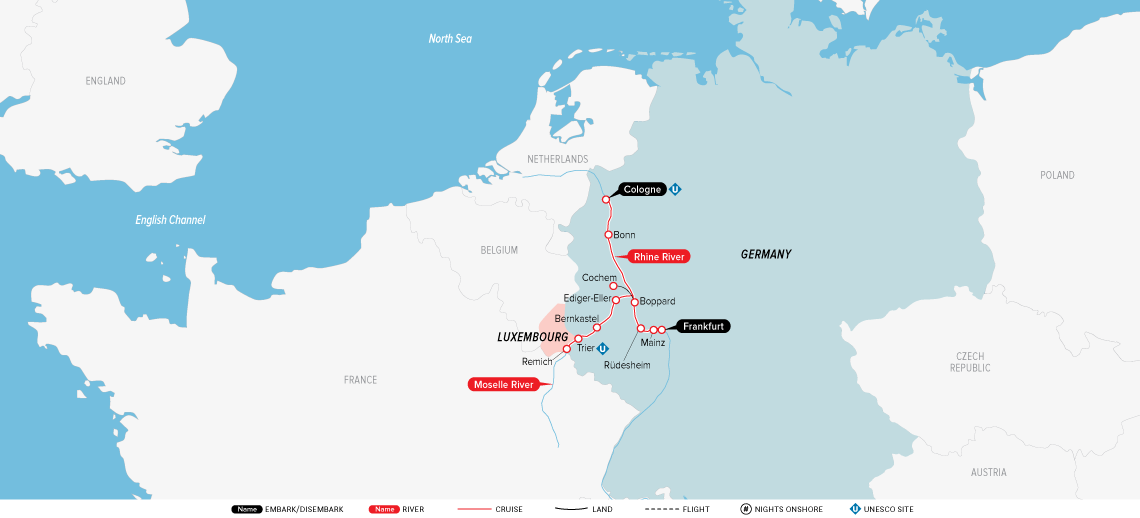 Germany's spectacular backdrops and breathtaking natural wonders will reveal themselves as you cruise along the alluring Moselle and Rhine rivers. Uncover the best-kept-secret in river cruising, the Moselle, as you sail past some of Europe's most serene, village-dotted and vineyard-lined landscapes.
Discover the cities along the rivers where you'll encounter cosy German towns and villages, a myriad of bike trails, stunning wooded and mountainous areas, Germany's beguiling history and delectable cuisine. Spot timber-framed houses with flower boxes, intimate squares, and historic buildings starting in Frankfurt. Step into old-world Europe with a "Let's Go" experience that will show you Mainhattan (not to be confused with New York City's beloved borough) by bike. Wander through charming Mainz before venturing to Rüdesheim, where you can explore the Abbey Eberbach. Enjoy a Rhinegau Riesling tasting within the historic walls and explore the grounds of the popular and picturesque filming location.
Take in natural wonders and cultural treasures near and far as you cruise along the Rhine before meeting the winding Moselle. Revel in the picture-perfect wine villages of Boppard and Cochem nestled along the Moselle. Discover Germany's oldest town, Trier, and learn about its rich Roman history on a panoramic walking tour that includes Emperor Bath, Constantine Basilica, and Karl Marx's birthplace. Dive deeper into Germany's heritage in Remich, Bernkastel, Bonn and Cologne. Embark on a castle hike, a village and vineyard walk, or cycle past famous landmarks and scenic shorelines, tasting classically-German beer, wine and sausage along the way. Let the enthralling Moselle and Rhine captivate you.
ALLURING AMSTERDAM & VIENNA
15 DAYS AMSTERDAM TO VIENNA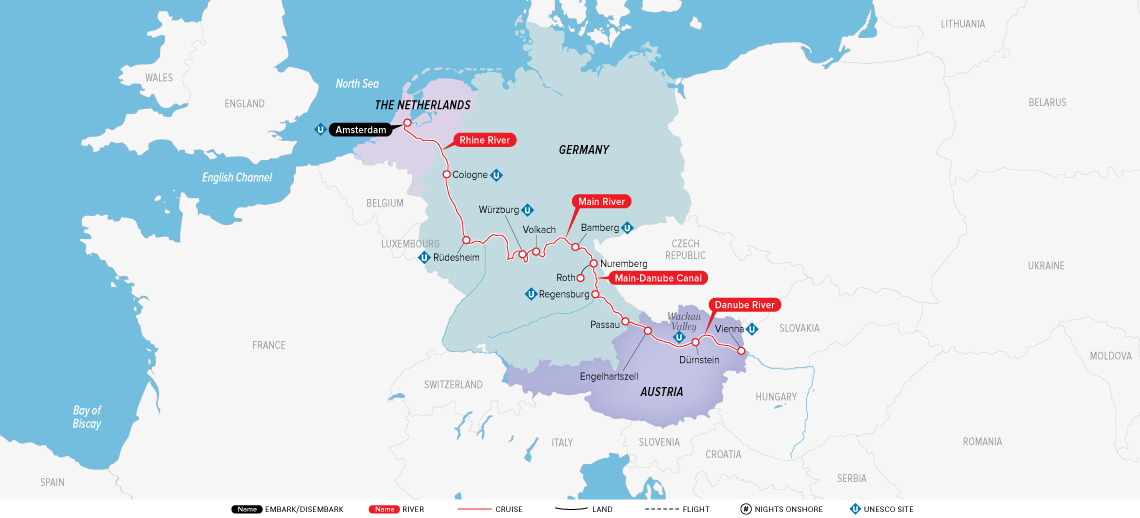 Authentic experiences and local encounters are in store on your cruise along the most scenic parts of the Main, Rhine and Danube rivers. Delight in the full spectrum of Europe's culture, history, art, architecture, cuisine and numerous UNESCO World Heritage sites resting along some of the most legendary rivers.
Explore colorful Amsterdam and its abundant canals, Dutch delights and world-famous museums. Discover Germany's splendidly quaint villages, towns, prominent landmarks, such as the Cologne Cathedral, and the region's best wine. Sail along the scenic rivers and keep count of the castles jutting out of the landscapes. Step off your ship into fairytale-like settings where you'll find countless opportunities for "Let's Go" hiking, biking and walking tours from city to city. Pay a visit to the futuristic BMW factory and satiate your need for speed in Regensburg before teeing off at Europe's number one golf resort in Bavaria. As part of an Exclusive Excursion in Dürnstein, travel to Austria's oldest wine estate and sample some of the most exquisite wines in all of Europe. By day in Vienna, tag along on an exclusive "Morning with the Masters" at the Vienna Art History Museum, go for an afternoon bike ride on Danube Island or by night, listen to the music of Mozart and Strauss at an exclusive private concert at a Viennese concert hall. You'll enjoy nothing short of a treasure trove of experiences from Amsterdam to Vienna.
AUTHENTIC DANUBE & PRAGUE
10 DAYS FROM VIENNA TO PRAGUE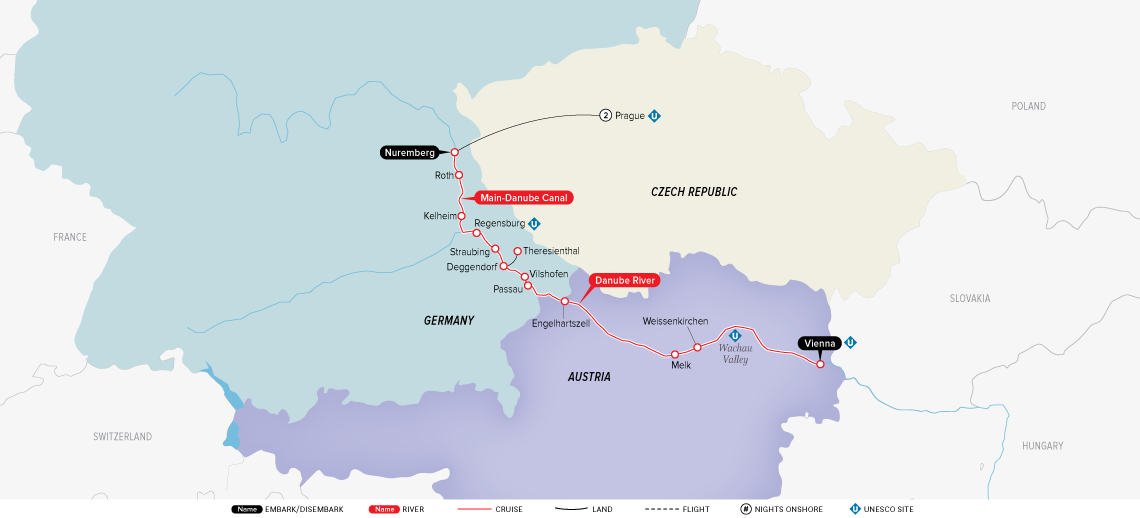 Go off the beaten path from Prague to Nuremberg to Vienna and uncover the scenic wonders and remarkable histories of the cities that rest along the Danube. As your adventure starts, castles, stunning architecture, natural wonders and rich history ensue. Not only that, but you'll discover Central Europe's fascinating Jewish ties as part of our Jewish Heritage programme – the only itinerary of its kind offered on the rivers.
Enjoy the great outdoors and bespoke experiences along the Danube in cities that inspired fairytales. Prague boasts Hradčany, the biggest, and arguably the most extraordinary, castle in the world, and an Old Jewish Quarter that's witnessed both hardships and celebrations for centuries. Discover the old walled city and Nuremberg's mesmerizing castles on the Nuremberg Panoramic Highlights Tour. Confront and explore the region's complicated and devastating history as you visit infamous Nazi documentation centers and party rally grounds. Stroll through countless enchanting old towns and villages, with plenty of "Let's Go" opportunities for hiking and biking in Regensburg, Straubing, Deggendorf, Vilshofen, Passau and Engelhartszell – all teeming with magnificent architecture, age-old tradition and outstanding breweries. Explore Weissenkirchen and its devastatingly-beautiful landscapes. Participate in a "Village Day," and stroll through towns accompanied by wine, apricot treats and a vineyard hike. In the historical capital of Vienna, you'll be met with glorious food, wine, art and outdoor experiences all on your search for new inspiration along the Danube.
ME TO WE & THE SACRED GANGES
12 DAYS FROM NEW DELHI TO KOLKATA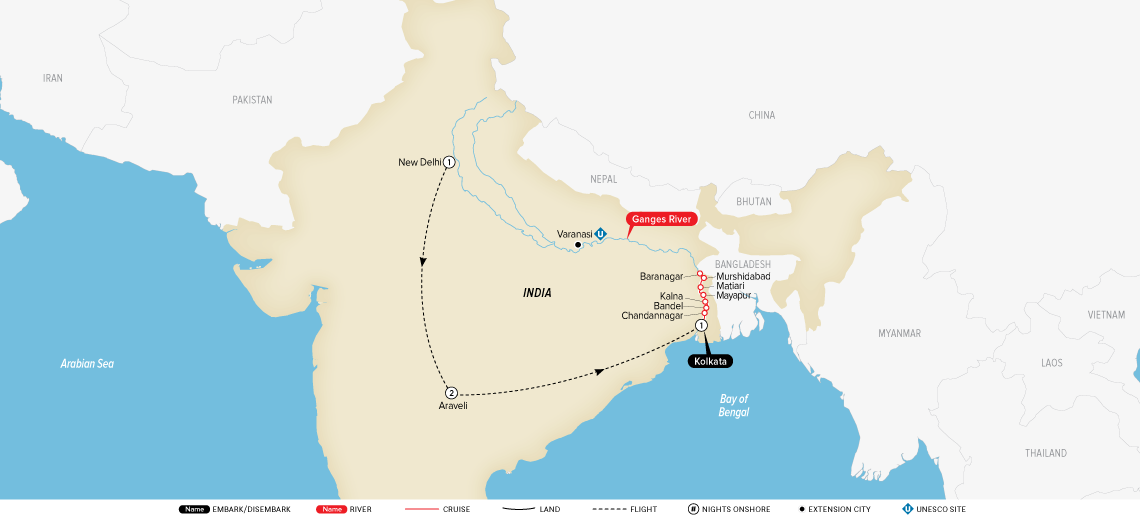 Join ME to WE for a one-of-a-kind adventure in India's countryside for the first four days of our traditional India cruise/tour. ME To WE is an immersive and transformative experience where you'll explore India's vibrant and fascinating culture through unforgettable encounters. In rural Udaipur, you'll settle into the stunning Araveli Cottages and Tented Camp and prepare for your time with ME to WE with a lesson in basic Hindi phrases before venturing out to the local village to mingle with community members. You'll wake up the next day to a sunrise yoga session overlooking the pink-hued Aravalli Mountain Range prior to spending the rest of your morning with women in the community learning what life is like in rural India. After savoring traditional Indian cuisine, you'll meet a local farmer who will lead you to the project site of your sustainable development project. When your time with ME to WE ends, you'll board the lavish Ganges Voyager II and head to the site of Kalna's magnificent Hindu temples. Meander through Matiari's authentic artisan village, Murshidabad's and Baranagar's architectural monuments and Mayapur's captivating Temple of the Vedic Planetarium– the centre of the international Hare Krishna movement. Discover why the French planted roots in Kolkata with a visit to the former French outpost before learning the enduring legacies of Mother Teresa. Visit her home, where she lived and worked for decades and marvel at the museum dedicated to her, where her Nobel Peace Prize sits proudly on display.
SUBMIT YOUR QUOTE FORMS TODAY SO WE CAN HOLD YOUR CABIN AND SEND YOU A QUOTE!
VISIT GET A QUOTE PAGE, FILL OUT THE FORM COMPLETELY AND SUBMIT IT TODAY.
LET US HELP YOU GET ONBOARD!