Cruising along the beautiful Mekong River which flows through Cambodia, Laos & Vietnam before merging in to the South China Sea is a wonderful experience. The English name 'Mekong' is derived from 'Thai' & 'Lao' meaning 'Mother of water(s)'
Absorb the breath taking views on the cruise which flaunts one of the richest areas of bio diversity in the world which includes 20,000 plant species, 430 mammals, 200 birds, 800 reptiles and much more. The vibrant cities, ancient villages, stunning landscapes and delicious cuisines never lets you down. The river flow is variable unlike the controlled flow of the European rivers making this an adventurous journey.
Mekong river cruise is the best way to experience the art, culture, traditions & attractions of Cambodia and neighboring countries. The river is fed by the melting snow from Mt. Himalaya of Tibet which flows into the sea on South China covering a distance of 2,700 miles. The region's popularity amongst travellers is increasing due to the selection of itineraries & styles of ships to choose from.
The route is full of thriving cities, ancients floating villages & bustling markets, tranquil lakes along with magnificent temples & picturesque view of the tropical forest & unending rice paddies.
The luxury cruise adds to the charm of this dream destination with
• Luxury suites with private balconies and Sun Lounges.
• Pool deck with swimming pool and bar
• Open-Air cinema
• Personal Butler for every guest
• All types of meals and Beverages
• Guest to staff ratio of 1:1.
• In-suite room service
• Multimedia via Wi-Fi
• Gym, Massage, Boutique, Library and Beauty Salon
• And a host of other facilities which would enrich your experience and make the trip memorable.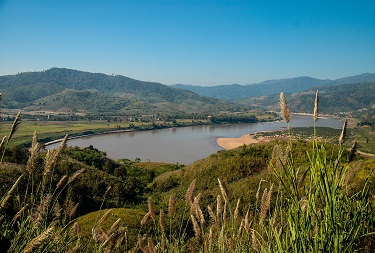 The cruise takes you to one of the most magnificent & well preserved 'Ankor Wat' temple. It's a majestic 12th Century World Heritage listed temple complex which was earlier hidden deep in the dense tropical forest but now is easily accessible by tourists.
Its spread out in 500 acres of land & happens to be the largest monument in the world representing the architectural Apex of the Khmer Empire. It was originally dedicated to Hindu God, Lord Vishnu & was founded in 12th Century. The temple's majestic architecture & sophisticated structure reveals what is thought to be a miniature representation of the Universe with its composition of towers, moats and concentric walls.
This marvelous structure lies in the heart of the Angliar archaeological park which covers 154 square miles and includes other Khmer temples dating between ninth century to 15th century, each holds it own charm. The best time to visit these is either Morning or Evening to avoid heat & crowds.
The other destination to look out for is Vietnam which is a hilly area with nearly half of land being mountainous & covered with dense tropical forests. Its bordered with China, Laos, Cambodia, South China Sea and Gulf of Thailand. Due to diverse topography, Northern Vietnam has a subtropical climate and southern Vietnam, a Savanna Climate.
During the cruise one gets to experience unique cultures and history with its lively markets, rice paddies, ancient pagodas and temples. There are nearly 50 distinct ethnic groups and no religious affiliation, though there is influence of Buddhism, Confucianism, Taoism and Vietnamese folk culture.
Hanoi, capital of Vietnam is located on the banks of bed river & is the culture center of Vietnam. This city has a collection of beautiful lakes, French colonial era buildings, temples and traditional villages.
Come and be a part of this enriching experience with us and discover this fascinating beautiful corner of the world.