Hey everyone!
Guess what? It's that time of year when Princess announces our 2019 programs, and this one opens for bookings November 8! Sea Princess® is going to be celebrating her 12th season of the Australia-based World Cruise. So now that you've got Australia on the brain, check out our reference flyer, booking offers and other sales tools to get as excited as I am.
G'day then,
John Chernesky
Vice President, North America Sales
Princess Cruises & Cunard Line
take advantage of early booking offers
Got some clients on the inner (Captain's) Circle? Help them get awesome early booking incentives and Launch Savings of up to $1000 per person*. But wait, I'm not done yet! When you book them on the full 106-day World Cruise before April 30, 2018, they'll get up to $1000 per person in onboard credit, complimentary gratuities and a complimentary mini bar set-up for guests in suites. That's a whole lot of free.
up to a two-category upgrade for groups
Encourage your clients to make their trip more of a group thing. They'll get discounts that offer up to a two-category upgrade compared to Launch Fares, which means up to $600 per person savings off Launch Fares in like categories. Available inventory for group allocations may be limited, so block groups early for best availability — particularly for premium inventory.
---
may – october 2019 australia
Sea Princess® celebrates the 12th season of the Australia-based World Cruise, with a 106-day itinerary, visiting 32 countries with 39 ports of call, including a maiden port of call on Portland, U.K.
for access to Stonehenge. And with four World Cruise segments starting in Sydney, Dubai, London and New York, guests have the flexibility to build their own vacation.
Hawaii, Tahiti & South Pacific: Explore the South Pacific on our 35-day Hawaii, Tahiti & South Pacific cruise, sailing from Sydney, Auckland or Brisbane. With ports of calls to four Hawaiian islands, French Polynesia, Fiji and Samoa, guests will catch the Aloha Spirit and experience the legendary hospitality of the islands of this region.
UNESCO World Heritage Sites: Experience some of the world's most iconic treasures, stunning natural wonders and historic cities on your adventure with Princess.
See the awe-inspiring Stonehenge, historic St. Petersburg or the breathtaking stone moai of Easter Island on the World Cuise.
With our More Ashore port calls, guests can explore exciting destinations by day and by night with ample time to experience local culture, cuisine and attractions. All ports shown in blue below are More Ashore Late Night calls (9 p.m. or later departures), unless noted as an Overnight.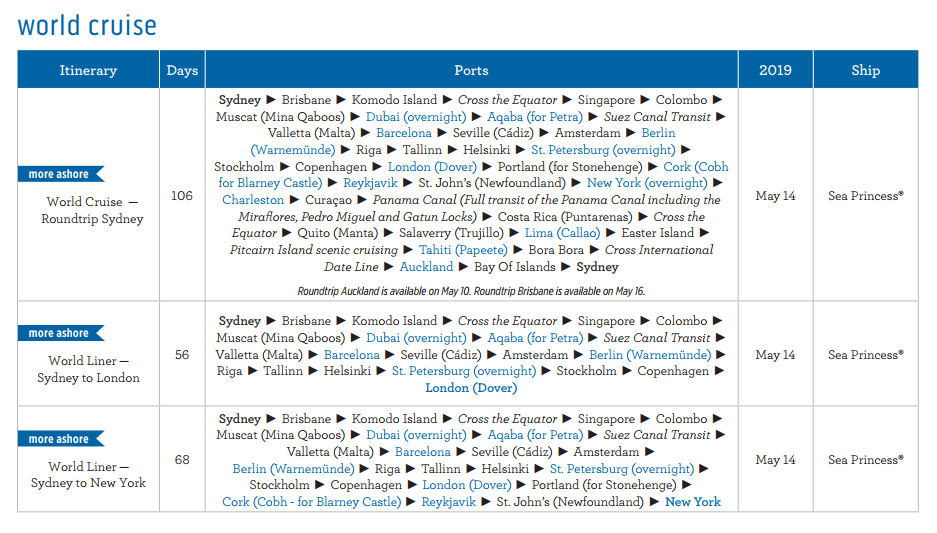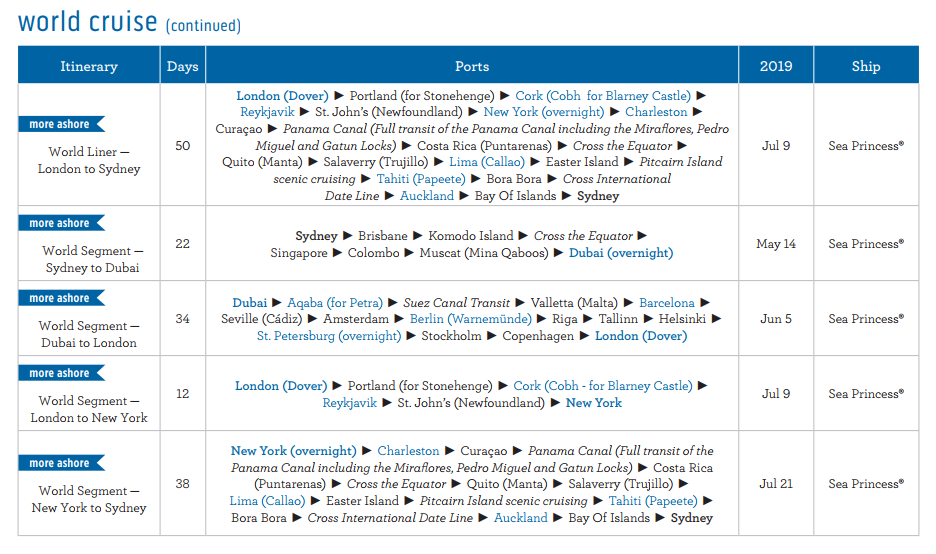 SUBMIT YOUR QUOTE FORMS TODAY SO WE CAN HOLD YOUR CABIN AND SEND YOU A QUOTE!
VISIT GET A QUOTE PAGE, FILL OUT THE FORM COMPLETELY AND SUBMIT IT TODAY.
LET US HELP YOU GET ONBOARD!